I'm no pro at false lash application. I find it difficult to apply them on myself yet so much easier to apply them on someone else.
That being said, I found that an eyelash glue will make or break your experience with applying false lashes. If the glue is difficult to work with, you'll give up after a couple of tries but if the glue is easy to use, you'll want to learn how to perfect the application!
I've decided to try two different glues (Duo & Quo) and let me tell you how they differ! One is top quality glue, the other is bottom of the barrel gunk.
DUO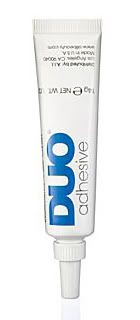 This is the top quality glue I am referring to. It is everything that Quo isn't.
MAC sells Duo for $9.50 CDN; you can also buy it online (for cheaper than $9.50), Rexal Pharmacies, and Sephora.
Ok let's get to the goodstuff!!
Duo comes in a white adhesive and in a black adhesive. I haven't tried the darker version but the white one dries clear.
The adhesive is not sticky or stringy- the texture is almost rubbery. It sets quickly and keeps your lashes on all day- no lifting or embarassing moments where your lashes fall off in your dinner plate on a hot date (oops!)
There is no alochol in the formula thus, it doesn't burn your eyes (unlike Quo) ! For some reason though, it has a fishy smell. It's not too noticeable but don't sniff it lol
You'll need to learn how to control the tube, though. The hole is a little larger than normal and if you squeeze it too hard or fast, globs of the glue will come out and if it gets on the fake lashes, they'll clump together (I ruined a pair of lashes I bought from MAC recently trying to get the glue off!!)
The lashes come off easily and painless without ripping off your real lashes but you'll have residue from the glue on your lashline that can be difficult to remove (try baby oil).
I really like this glue and would definitely recommend for anyone, new or experienced.
QUO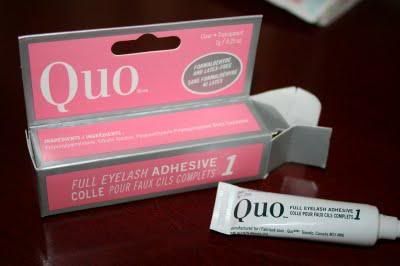 This glue is just terrible! It burns my eyes, making them water, ruining the make-up I've already applied and having to start over! Not to mention, it glued my eye shut!
The formula is sticky & stringy (think melted cheese), when it dries it's hard and noticeable on the lashes. Also, the glue doesn't last very long- the eyelashes just pop off (embarassing!).
Once this glue gets on your fake lashes, have fun getting it off! Because of the stringy texture, it gets tangled inbetween the lashes.
The lashes are painful to remove so use a make-up remover or soap and water to help loosen the glue from your lashline.
The only good thing about this glue is the tube it comes in. The hole is small and it's easy to control how much glue you apply to the lashes. I wish DUO came in this kind of tube!
You can buy Quo at Shoppers Drugmart. It only costs $6.99 CDN but save your money! It's not worth it at all.