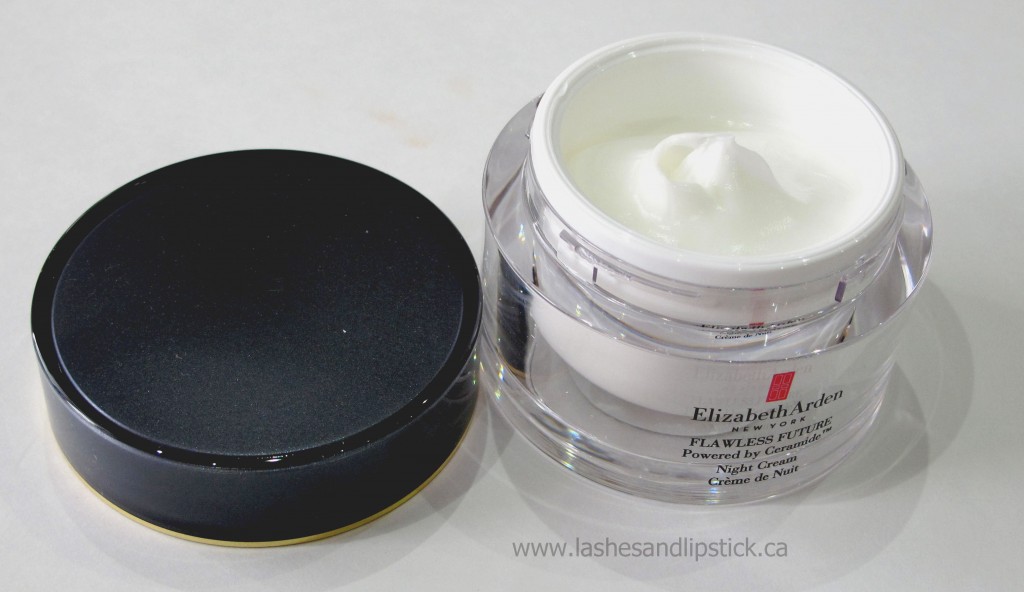 Cost: $66.50 CDN
Available at: The Bay, Shoppers Drug Mart, London Drugs
MY 2 CENTS
Since it's release in July, I've been using Elizabeth Arden Flawless Future Night Cream every night. So much so that since writing this review, my jar is empty!
Elizabeth Arden Flawless Future Night Cream supports our skin's renewal process to help counteract the visible effects of stress, brightening and evening tone, and easing the appearance of fine lines. My skin has never been so smooth, soft, nourished, or glowy!
The ingredients include barrier supporting Ceramides, Telosense, skin brighteners, and additional key ingredients such as:
Ceramide Skin Identical Matrix – specifically targeted for the 25 – 40 year olds, that help replenish depleted ceramides lost due to aging and stress.
Telosense – protein complex that helps minimize the appearance of early lines and wrinkles.
Second Skin Protective Matrix – a non-occlusive film that shields skin from pollution.
Botanical Hops Extract – brightens skin, reduces discoloration, and aides in the appearance of uneven tone.
Tephrosia Purpurea Extract – a mineral rich botanical that helps with relaxation and the feeling of well-being. This ingredient helps induce a more restful sleep.
Elizabeth Arden Flawless Future Night Cream was designed to counteract not only the chronological signs of aging but also the aging instigated by lack of sleep, a hectic, busy lifestyle, and the environmental stresses with experience every day through smog, pollution and even weather changes.
I've found  Elizabeth Arden Flawless Future Night Cream to be so hydrating and nourishing on the skin that it could definitely benefit those with dry, dehydrated, and/or normal skin, but may be too thick for oily skin, or too fragranted for sensitive skin.
Now that my jar is empty, I'll definitely miss using this every night!