I rarely blowdry my hair because a) heat damage and b) my old blowdryer took forever. Because of my new CONAIR InfinitiPRO, if I shower in the morning I can actually blowdry my hair in a timely manner. I have fine hair but there's quite a bit of it and with CONAIR InfinitiPRO, it takes me all over 10 minutes to get my hair dry so I can straighten or curl it…. I still haven't mastered the round brush technique LOL
CONAIR InfinitiPRO comes with two attachments that just twist on.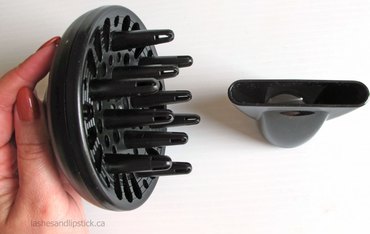 The big round one with the pegs is a diffuser that enhances curls and waves and the flat one that looks like a vacuum attachment is a concentrator for pinpoint styling with a round brush.
The AC motor delivers a super powerful airflow. I have to use an attachment when blowdrying otherwise my hair flies all over the place and so does anything else in it's vicinity LOL
I still use a heat protector when using any styling tool on my hair but the ceramic technology protects against heat damage and the tourmaline technology fights frizz to create smooth and shiny hair. It also has a true cold shot button that you can use to lock in style. Kind of like when you take a hot shower, then turn the water to cold for all it's lovely health benefits.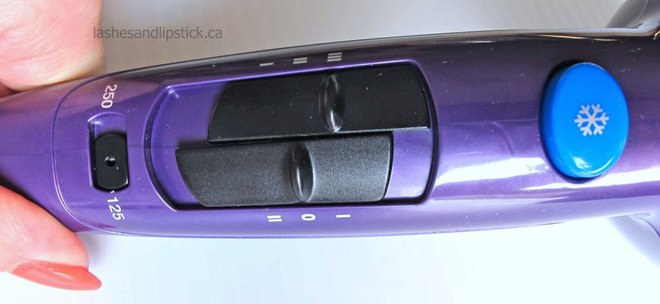 CONAIR InfinitiPRO has 3 heat settings and 2 speeds. It's designed for all hair types from fine to thick or dense.
There's also a removable filter that you can clean so that it prevents lint buildup, doesn't leave your washroom smelling like burnt hair, and it extends the motor life.
Another bonus is that it's dual voltage, meaning you can use it in several countries overseas, too.
At the bottom of the handle in the above picture, you;ll see the voltage selector. In Canada, the switch should be at 125. When using it overseas, you'll need to switch it to 250 and use a plug adapter for the power supply receptacle overseas.
CONAIR InfinitiPRO can be found at Walmart or The Bay and other retails found on conaircanada.ca for just over $50 CAD, roughly.
If you're in the market for a new blow dryer, you should definitely pick this one up! I'm confident that it will work on every hair type.