Sometimes our smile needs a bit of a boost. We get older, we start drinking coffee or tea daily, maybe a glass of red wine with dinner, maybe we smoke (ew!), or maybe our water is a bit harsh. All these factors and our teeth become a little lackluster so we dabble into whitestrips or whitening toothpaste. I use Crest 3D White toothpaste twice daily and rarely ever use whitestrips but I know my brother does and he has the whitest teeth I've ever seen LOL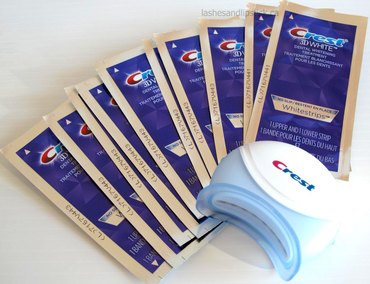 I get whitestrips in my mailbox a few times a year but truth of the matter is that I don't use them but this package… the light intrigued me!
Crest 3D Whitestrips with Light is a dental whitening treatment that includes 1 light and 10 treatments for upper and lower teeth. What I love about these whitestrips specifically is that they are non-slip. I can talk and they stay in put. I remember a handful of years ago, you could barely swallow with whitestrips on because they'd move around. These non-slip ones are a major improvement already.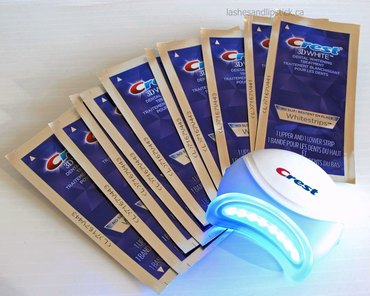 So essentially, you wear the whitestrips for one solid hour. Then turn on the light- there's two tiny buttons you press and hold simultaneously, and then release for the light to stay on. Place the light against the top strip until it automatically turns off after a few minutes, then do the same for the bottom strip. Lastly, remove and discard of the strips once the light treatment is over.
The blue light weakens the stains so that the whitener can work more effectively. This is the same type of light technology that dentists use. It whitens 2x better and lasts up to 36 months.
Even after two uses, I've noticed my teeth are brighter. Crest 3D Whitestrips with Light should be used once a day for full results in 10 days.
Crest 3D Whitestrips with Light is $119.99 CAD and available at mass market retailers
I'd love to hear your experience with whitestrips or whitening kits. Leave a comment below!
Disclosure: I am a #BeautyUnited blogger. As part of my affiliation with this group I receive products and special access to P&G events. The opinions on this blog are my own.